The older I get the more I realize I don't know…….and I especially don't know what I don't know even exists. So, when I decided to go back to school last fall, I was eager to learn all kinds of new and exciting things that I didn't even know that I didn't know. Amongst those unknown things……case studies….for art projects. Simply put, building a professional case study is a way to look at what a client is in need of, how I can help apply my skills to attempt to fill that need, what steps I take to accomplish filling that need, and then looking at what the final outcome is. Below is an example of just such a project.
20th Annual Colorado Immunology Conference Themed Deliverables
Every year the Department of Immunology & Microbiology at the University of Colorado hosts its annual themed conference bringing together Immunology and Microbiology research professionals for education, collaboration and networking – including a costume contest at dinner every year.
Since 2012 I have been in charge of art direction and design for creating cohesive deliverable materials for this conference. In 2019 the conference had a 'Fairy Tale' theme blended with 'science/research' that needed to be represented on the program schedule, name tags, sponsor recognition, save the date announcement, and website schedule and registration.
This project began with a digital sketch of a 'Science Dragon' (they come in several colors and study various branches of science) and then the idea of supporting collaboration added the unicorn. Since it was a 'Fairy Tale' theme I added a little playfulness to the scrolls with the 'fairy tale wishes granted' feel with the scrolls holding the Nobel Prize, the Cure for Cancer, and Unlimited (and unrestricted) grant funding.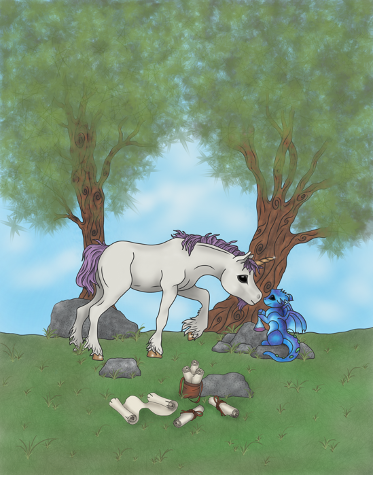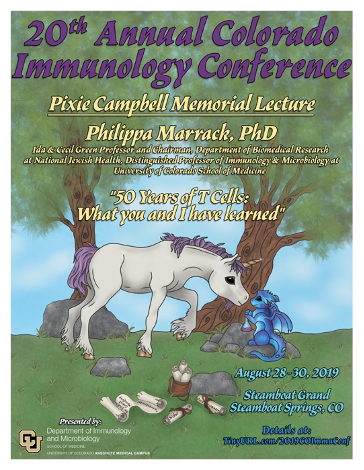 The cohesive look to the deliverables for the client resulted in a uniform presentation for the entirety of this conference. (And several comments of how much fun the theme was.)